Education Industry Group
EIG mentors and advises education entrepreneurs who share the passion for exploring innovative solutions and products that meet the needs and opportunities for today's global education market.
As an independent boutique firm, Education Industry Group:
Collaborates with the leading education industry investment banks, venture capital and private equity firms;
Maintains a well-established network of sources of capital for education entrepreneurs focusing on early stage and philanthropic investors;

Provides research and industry intelligence on marketing, branding, and potential strategic partners.
The term "education industry" is commonplace today, prominent in the lexicon of leaders in business, government, and education. EIG was founded as a boutique advisory firm supporting the mission and vision of education entrepreneurs whose passion is to build an enterprise and career in education. Thus, EIG's company motto: "The Friend of the Entrepreneur."
Chairman and CEO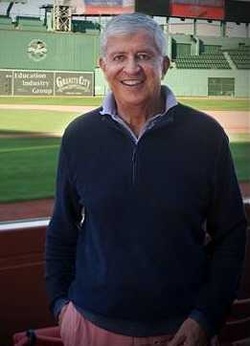 Michael R. Sandler, who coined the term "education industry," is considered one of the industry's founding fathers. A lifelong entrepreneur, he has built a career both in business and education. In June 2012, Sandler joined the Parthenon Group as a Senior Advisor to its Global Education Practice.

Previously, he established Eduventures, Inc., an industry-leading research and consulting business, in 1993 after founding and selling several successful businesses, including Marsan Industries (which merged with ITT Corporation) and Auto Parts Distributors (which was sold to Rite-Aid Corporation).

In 1989, Sandler served as a senior fellow at Harvard's Kennedy School, where he conducted research on the intersection of business, government, and education, which provided the foundational research for his education career. A graduate of the Wharton School at the University of Pennsylvania, Sandler has served as a trustee of the University and as an overseer of its School of Arts and Sciences.

He was the founder of A Different September Foundation, an organization that supported the Boston University/Chelsea Public Schools Partnership, from inception in 1991 to 2006, when Boston University returned the public schools management to the city of Chelsea, MA.

In 2006 and 2007, Sandler was an executive-in-residence at the University of Southern California, exploring business and education issues as they relate to access to capital and career opportunities in the education industry. Currently, Sandler is a Visiting Fellow at Johns Hopkins University - School of Education and President of the Education Industry Foundation.
---
---
Interested in Learning More?

Contact our Project Manager,
Jen Ceven
, to discuss your current situation and vision. With her varied experience in many aspects of the education industry, from public to private, K-12 to higher education, domestic and global, Jen can collaborate with you to develop an action plan that fits your timeline, needs, and budget.
---
---
Contact Us